Butler Nissan

Nissan Model Research
Get to know our most popular Nissan models at Butler Nissan in Macon
At Butler Nissan in Macon we have hundreds of new Nissan models in stock. Whether you want a spacious SUV with presence, a sedan with great fuel ratings for commuting, or a capable truck, you're sure to find what you're looking for when shopping our online inventory.
Below we'll go over the most popular new Nissan vehicles we have for sale or lease. Once you've found a model (or two) that speaks to you, visit our dealership for a test drive!
Research Nissan Models
There's so much to do in Macon, like visit the Museum of Arts and Sciences or head out to the Amerson River Park. With attractions like this, it's nice to have friends and family come along, and with a Nissan SUV you'll have plenty of space for everyone and their bags.
Nissan Sedans for Sale Near Warner Robins

Sedans might be losing favorability in some parts of the country, but not here, and you can see that reflected in our large Nissan sedan inventory. That isn't a huge surprise though! Many customers drive into Macon for work, as the city is home to major employers in the medical, schooling, and engineering fields. These are our favorites for commuters who want either affordability, balance, or performance.
We love how well-rounded the Nissan brand is, and while their big focus is sedans and SUVS, they aren't afraid to tap into the trucking segment either. Whether you want a truck that is easy to maneuver in downtown Macon or you want to go fishing and hunting nearby and need a vehicle that isn't afraid to get dirty, we've got you covered with our Nissan truck options.

Nissan Frontier
The Nissan Frontier is a midsize truck, and it's a hit with city drivers, weekend warriors at the home improvement shop, or anyone who has light utility needs. Here's a few things you should know about the Frontier:
You can choose from King or Crew cabs
There's a 2.5L or a stronger 4.0L V6 that can tow up to 6,720 pounds
You can go off-roading with the Pro-4X trim
A 7-inch touchscreen and backup camera are standard
Shop Nissan Frontier

Nissan Titan and Nissan Titan XD
If you need a larger pickup and more performance, come check out the Nissan Titan full-size or the heavy-duty Nissan Titan XD. Here's a bit about performance:
Along with the two previous cabs, there's also a single cab
Depending on the cab you can tow up to 9,660 pounds with the Nissan Titan
The Nissan Titan XD can tow up to 11,960 pounds
Both trucks have America's Best Bumper-to-Bumper warranty
You can get advanced safety technologies, as well as Apple CarPlay® and Android Auto® for convenience
Shop Nissan Titan
Compare Titan
Compare Titan
Compare Altima
Compare Altima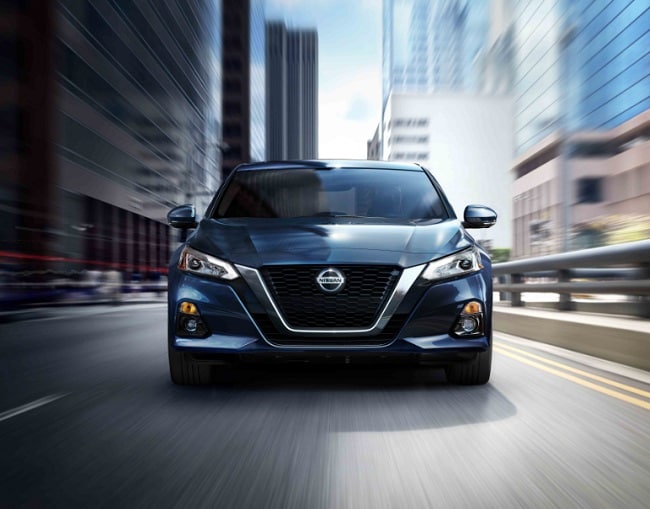 Compare Rogue
Compare Rogue
Hours
Monday

9:00AM 7:00PM

Tuesday

9:00AM -7:00PM

Wednesday

9:00AM -7:00PM

Thursday

9:00AM -7:00PM

Friday

9:00AM -7:00PM

Saturday

9:00AM -7:00PM

Sunday

Closed